NORTH AMERICA FIELD TRIP 2007
Toronto and Waterloo, Southern Ontario, Canada, North America
In late May 2007, a field trip to the Southern Ontario, Canada, North America was organized by the Department of Geography and Resource Management. This was the first time for the department to organize a trip to the North America. A total of 26 undergraduate students have joined the trip together with Prof. Fung Tung as trip leader and Mr. Wong Kwan Kit, Frankie as Graduate Assistant. Special thanks are given to Prof. Gunter Gad from the University of Toronto; Prof. Paul Parker, Prof. Gordon Nelson, Prof. Ellsworth LeDrew, Prof. Bruce Mitchell, Ms. Zhao Suping and Ms. Susie Castela from the Department of Geography, University of Waterloo for their assistance in organizing the trip as well as comprehensive guidance and explanation during our trip.
| | |
| --- | --- |
| Prof. Gunter Gad | Prof. Paul Parker |
| Prof. Gordan Nelson | Prof. Ellsworth LeDrew |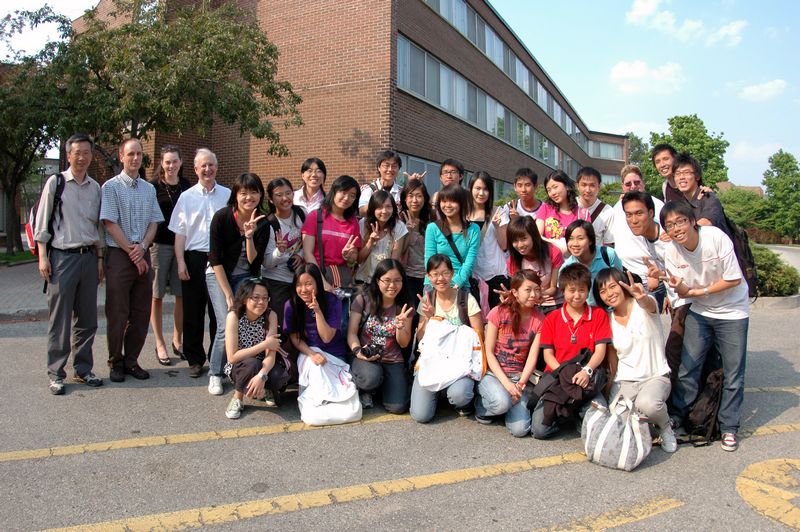 The Study Group
The Study Mode
Field trips of the department encourage students to study a variety of topics in Geography. Before the trip, 26 students are divided into 6 groups. Each group is assigned a special topic concerning the studies either in Toronto or Kitchener-Waterloo (KW), which is shown in the itinerary below. Students are required to search and gather information, read relevant articles related to the topic assigned. We have scheduled two meeting sections for the students to present their findings. During the trip, various study modes including lectures, guided tours as well as fieldwork such as land-use and questionnaire survey are conducted.
Itinerary of the Trip
May 17
Departure to Toronto
May 18
Free Day: local orientation in Toronto
May 19

Urban development in downtown Toronto

May 20

Toronto waterfront revitalization programme and Chinese Diaspora

May 21 

Travel from Toronto to Waterloo

Free Day: local orientation in Waterloo

May 2

2

Industrial Transformation and Economic Development
Toyota Motor Manufacturing Centre
Waterloo Research and Technology Park

May 23

Environment and Land Use Planning in Waterloo: Region and Grand River Watershed
Grand River Conservation Authority: Heritage river, floodplain management, Watershed Planning

May 24

Remote Sensing: Urban and Water/Ice/Snow Related Research

Remote Sensing Projects at Waterloo:

The Canadian Cryospheric Information Network

The IPY Canadian Metadata Master Directory

The World Bank Coral Reef Project

Waste Management and Water Conservation

Erb St. Landfill Site, Waterloo Moraine, urban growth pressures

May 25 

Geomorphology and International tourism: Niagara Falls
Specialized agriculture: ice wine production: Niagara vineyards

May 26 

High Park, Toronto

Self exploration

May 27 
Departure to Hong Kong
Assessment
This field trip allowed studesnts to fulfill a compulsory course requirement for all major students. Assessments for the students are based on their preparation, participation and presentation before as well as during the trip. Students (in group) are required to submit a detailed report concerning the topic of their study as well as preparing a website (in group) for the theme of their study.