The City Forming Process
Students studied the driving force and changes that have taken place to make Sydney a World City. To understand the urban transformation process, students were divided into four groups to focus respectively on:
Central Business District of Sydney: Driving forces and characteristics that changed Sydney from a "Colonial City" to a "World City".
Sydney has a well developed CBD. It is the regional headquarters to more than 275 global corporations operating in the Asia Pacific region. In terms of existing office stock, Sydney ranks among top 15 world cities. There are five universities within the Sydney Metropolitan area.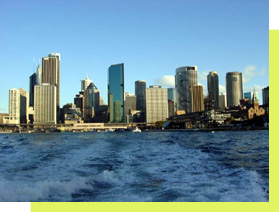 Figure 1: Sydney's City Centre
Urban Regeneration: Land use changes and planning/ design efforts to revitalize old industrial areas
Sydney has a history of two centuries; it was a port with many wharf activities concentrated at the waterfront. As a result of the development of the freight transport, many of the wharfs and warehouses along the waterfront are no longer needed. Some of these facilities have been demolished, but many warehouses have remained and are now converted for other uses.
| | |
| --- | --- |
| | |
| Figure 2: Old Wharf | Figure 3: Port Facilities become Part of History |
Chinatown: Study of an enclave in the city core that reflects the multi-ethnicity of this World City
Sydney has a large Chinese community, originally made up of Cantonese speakers from southern China who started arriving in the 1850s. With recent arrivals from Hong Kong, Malaysia, Singapore and Mainland China, Sydney's Chinatown is a bustling enclave of restaurants, shops and supermarkets on the southern edge of the city area.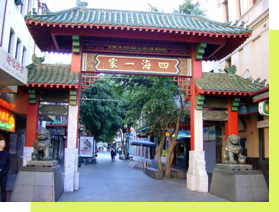 Figure 4: China Town of Sydney
Urban Ghetto: Characters and changes in the poorest part of the city, which is just adjacent to the city center
Not far away from the city centre is Redfern, which is an urban ghetto, a sharp contrast to the glamorous Sydney CBD just 2km away. An urban ghetto is a residential district occupied almost exclusively by one ethnic or cultural group or social class.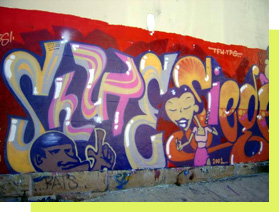 Figure 5: Graffiti in Urban Ghetto