Getting to know the City
Sydney is a very different place compared with Melbourne. To get to know the city, participants visited the following places as a group on the first day in Sydney:
South Head (Sydney Harbour National Park)
Sydney Harbour National Park protects various islands and foreshore areas around one of the world's most famous harbours. It contains rare pockets of the bushland, which was once common around Sydney, and in these remnants a surprising range of native animals live in the park.
Figure 1: South Head
Beyond the scenery, there's a lot of history, mystery and cultural heritage, for example, buildings constructed with convict labour, historic maritime and military installations, and the Quarantine Station, which used to protect Sydneysiders from infectious diseases.
Opera House
As one of the most beautiful building in the world, the Opera House has become the icon of modern Sydney. It is Australia's premier cultural center for opera, ballet, theatre and music and houses four theatres and several find restaurants. In fact, no building on earth looks like the Sydney Opera House.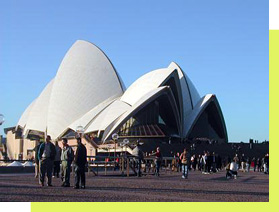 Figure 2: The Opera House
The Rocks and the Circular Quay
Sydney was first settled by the British as a penal colony on 1788 when 400 settlers and 750 convicts arrived on the First Fleect of 11 ships. Circular Quay is referred to as the "birth place of Australia." It was here that the first fleet landed its human freight of convicts, soldiers and officials, and the new British colony of New South Wales was declared.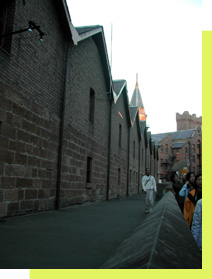 Figure 3: The Rocks
Town Hall (Sydney Square)
The Sydney Town Hall is one of Sydney's best loved icons. For more than a century it has been the city's major public and civic building. Its clock is a popular landmark, and the marble steps leading up to the entrance are one of Sydney's favourite meeting places.
The Town Hall is the seat of the city government and the venue for meetings of the City of Sydney Council. Built in the grand Victorian manner from local sandstone, the building has been beautifully restored to its original form.
The Sydney Town Hall is an impressive centre for civic and cultural events and its state-of-the-art facilities make it one of Sydney's most exciting venues.
Darling Harbour
Darling Harbour houses Sydney's Convention and Exhibition Centre as well as several major tourist attractions, shops, restaurants and cafes. Major attractions include the spectacular Sydney Aquarium, the Imax Theatre and the Chinese Gardens.
Darling Harbour was NSW's Bicentennial gift to itself. This imaginative urban redevelopment covers a 54-ha site that was once a busy industrial center and international shipping terminal catering for development of the wool, grain, timber and coal trades.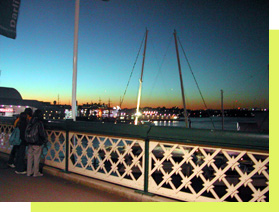 Figure 4: Darling Harbour